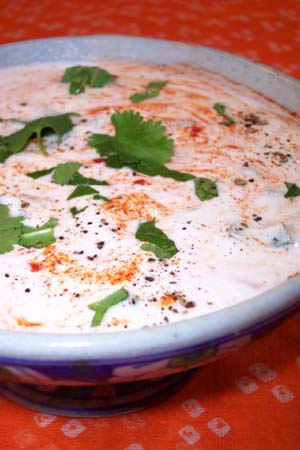 Ingredients:
1 english cucumber grated
1 cup sour cream
1/2 cup buttermilk
1 tsp roasted cumin powder
1/2 tsp garlic powder* (substitute 1 clove fresh garlic if desired)
1/2 tsp cayenne pepper
Sprig of cilantro finely chopped (optional)
pinch of salt
Squeeze out as much water out of the grated cucumber. Mix sour cream and buttermilk in a bowl. Mix all ingredients together. Let sit for about 30 minutes before serving. Serve chilled.
Tip: Excellent compliment to any dish. Great with parathas or samosas! You can always add different veggies to this raita as well. I have made it with red onions, grated carrots and tomatoes*